MECHANICAL CIRCULATORY SUPPORT SERVICES
Procirca's clinical engineering program leverages world-class academic resources as well as the latest developments in clinical research to offer patients, clinicians, hospitals, and industry associates the most advanced training, consulting, and education available in mechanical circulatory support (MCS) services.
Our engineering expertise combines with our clinical experience and dedication to patient care to produce successful outcomes. Our services include:
Program development or enhancement
Implementation of best-practice guidelines for patient and device selection
Mechanical function and optimization
Hospital staff education
Patient, caregiver and community education
Technical consultation and support for both patients and medical staff
Integration and application of the latest MCS technologies
Analysis of patient management and support techniques
Ongoing development, quality control, and educational programs
A Winning Team
To achieve optimal outcomes, Procirca employs integrated teams of bioengineers, cardiac surgeons, cardiologists, and clinical nurses. Our team credentials and experience include:
Expertise with more than 13 MCS technologies
Support of more than 1,600 MCS cases totaling more than 750 years of patient support days
Delivered more than 100 surgical training courses
National and international program support
Our teams have been involved with the early adoption and expert use of first-generation pulsatile blood pumps as well as second- and third-generation blood pumps. We can work independently with new clinical centers or on behalf of VAD manufacturers to develop site-specific clinical protocols and training programs. Procirca is available around the clock to provide on-site support for implants and clinical events. As a result, our engineers are able to provide feedback to manufacturers about how to improve their devices, consoles, and processes—which ultimately improves patient care.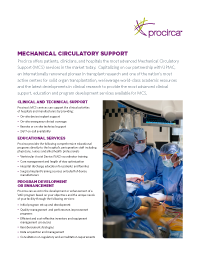 Learn more about our Mechanical Circulatory Support services >>